As dog owners we wish the best for our dear companions when they pass on. Where they go is anyone's guess. There are lots of famous quotes on the subject. "If there are no dogs in Heaven, then when I die I want to go where they went." - Will Rogers and "You think dogs will not be in heaven? I tell you, they will be there long before any of us." -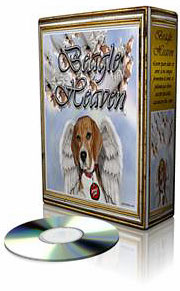 Robert Louis are a couple of good examples.
I created a graphic that I call "Beagle Heaven" (see below) which is my stylized idea of how I hope our furry friends wind up, flying around and, without a doubt, looking for treats in the clouds.
You can have a customized versions of "Beagle Heaven" for those beagle friends you want to remember this way. With a photo from you (digital or hard copy) I can create a custom package featuring your pet. Your "Beagle Heaven Package" will include the following:
A series of Beagle Heaven images customized with your loved one's likeness in a variety of sizes (with and without picture frames) to be used for posting on the web, adding to your PDA/cell phone or attaching to e-mails
A set of Beagle Heaven wallpaper images to be used on your computer's desktop background
A set of high resolution Beagle Heaven images for printing on your own ink-jet printer or at your local print shop and then framed as you choose
Your Beagle Heaven images published on a DVD disk that can be viewed on your television with a DVD player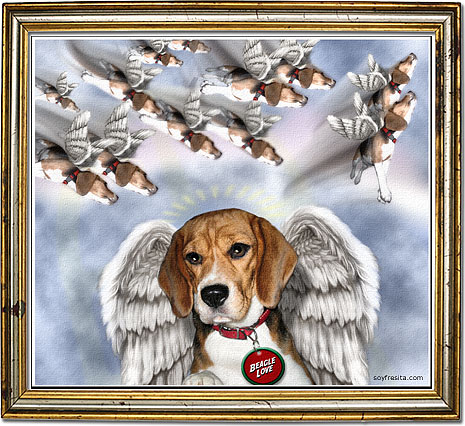 Above is the basic Beagle Heaven image. It can be modified in any
way a person would want and, of course with the image of your pet
instead of Fresita but this is the basic version.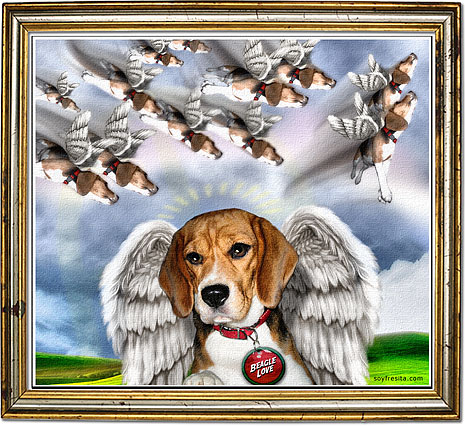 An alternative design with green fields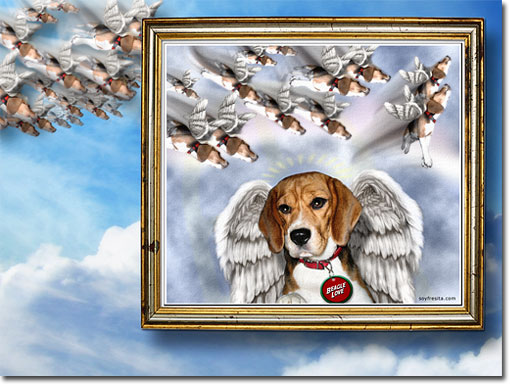 Above is an example of wallpaper made using the Beagle Heaven
image as the principle element. This can be customized as well.
For a free copy of this wallpaper in 1024x768 resolution
just right click on the picture after it loads and choose "Save As"
Beagle Heaven Wallpaper 1024x768 Click Here
Below is a little larger sample of Beagle Heaven with Fresita as the subject image.